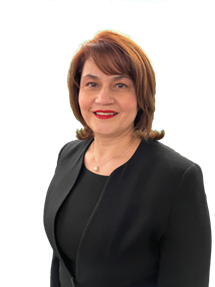 Zana S. Aston EMBA
Zana is an award-winning champion of digital technologies including Cloud Technologies, Master Data Management/AI, Cyber Security, Digital Marketing, Decentralized Finances and Circular Economy.
Currently working as the Chief Technology and Sustainability Officer for Emrys Consulting offering Smart Technology Solutions, ESG and other specialized business solutions to SMEs. Please see EMRYS Consulting - Expert IT Consultants for Startups & SMEs.

An outstanding track record of leadership, executive roles and recently appointed as the President of the Supervisory Board of SGS. Zana is also an Advisory Board Member for WIT Global movement – Croatian chapter and the IoD Advisory Board member of the Finance & FinTech interest group. 
As an Angel investor she supports small/medium business in the delivery of business-critical multi-million-pound enterprise projects and rapid career progression and is a member of two committees: Women Leadership and Access to Finance under the World Global Angels Forum, partner of G20.

Zana has been nominated for and has received numerous awards including the Women in Leadership scholarship from the prestigious école des Ponts, Paris as part of her industry leading LeadTech Global Executive MBA. 
Zana has also recently received the Women in IT Diversity and Inclusion Networking of the Year nomination from Women in IT Summit & Awards Series, UK.

Company/client portfolio of FTSE 250 and FTSE 500 organizations includes financial institutions, managed services, legal and retail: Dixons | Société Générale | BNP Paribas | Deutsche Bank | ABN Amro | Morgan Stanley | Advanced | Xerox