How long does it take for a Russian chess grandmaster to win at a game of chess?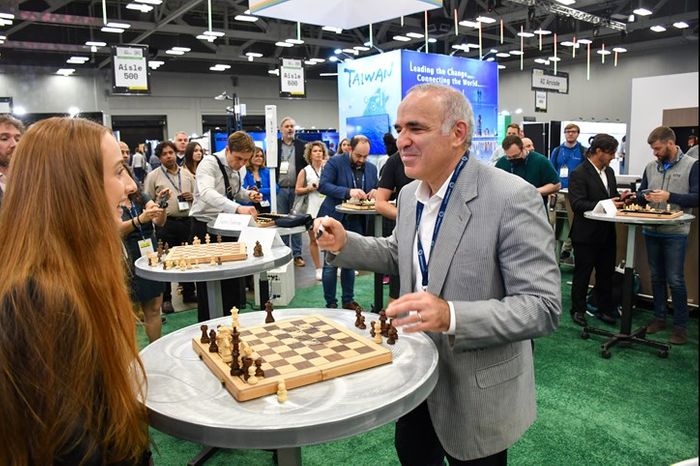 How long does it take for a Russian chess grandmaster to win at a game of chess? At the Applied Intelligence Live (formerly the AI Summit & IoT World Austin), Samantha Rowlinson found out first-hand...
I was attending #AIIoTAustin with Informa Tech's AI Business team. Its purpose was to inspire innovation in the tech industry, promote responsible AI, and for people to meet, network, and find solutions to issues they're having within their businesses, and my plan was simply to gather social content. Playing chess was the last thing on my mind.

The former world chess champion Garry Kasparov had three main features at the event: a headline session, an interview on Tech TV, and a chess match with 10 people simultaneously. I went along to watch the chess match with the rest of my pillar colleagues. People had been joking around beforehand because they heard I used to play when I was younger – I won a trophy in a tournament when I was nine years old – but I never agreed or confirmed I would play. Then someone dropped out at the very last minute and my manager just said, "Right, Samy." And suddenly I was in front of a crowd of 70 or 80 people.

Kasparov stood in the middle of us, a circle of 10 players (eight men and two women), each with their own chessboard. At this point, I felt quite relaxed and focused on my chessboard. We were instructed only to take a turn when Kasparov was just about to arrive at our table, so he could see us moving our piece just before he made his move.
Kasparov began walking around the circle, making his move with each player. It was pretty impressive how quickly he played. He was very concentrated. There was just one guy whose table he stood at for a while; every time he went around, Kasparov would stay there for longer because he was really focused on not letting this guy beat him. With everyone else, including me, he was super-fast.

It only took him about 20 minutes to beat us all! I think I came seventh out of the 10 of us. The only other female player came first, so that was cool. Kasparov went around and signed everyone's chessboards at the end.

Looking back, the whole event felt surreal; I was so inspired. It has always been my dream to travel for work but I never thought I'd have the opportunity to do it by the age of 22, so going all the way from London to Texas for a business trip was already exciting. Playing chess with Kasparov was the icing on the cake – something my nine-year-old self could never have imagined. It was an experience I will never forget.
This article was orginally published for Stories from the Summit, our bi-weekly LinkedIn newsletter.